Ever had one of those "uh-oh" moments? Moments when you're counting your chickens before they hatch only to discover you have too few eggs to cover the bills, a car repair, a home repair, buy a house, or something else. Thankfully, there's a way to prevent it from happening again, and it starts with the type of goals you set and work with. Specifically, smart goals.
So, just what are smart goals?
These goals can give your finances – and other areas of your life – a significant boost in the right direction. I'm glad you asked. Get ready to feather your nest with smart but easy financial planning.
What are Smart Goals?
Smart goals are specific types of goals that give you the direction you need to achieve them. In a bird's nest, the term is an acronym:
Specific
Measurable
Attainable
Relevant
Time-bound
Writing smart goals is an excellent way to scratch a roadmap to financial and life successes. It allows you to hatch a plan you can live with and follow so your dreams can soar.
Specific: Clear Direction for Success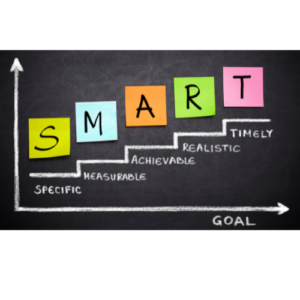 Remember how I said these goals were specific?
When setting smart goals, you gain a clear path to peck away at your financial goals, which includes targets, deadlines, and a glimpse into your financial future, or at least what you hope will become your financial future.
Step away from the crystal ball! Building future nest eggs is not the same thing.
You don't need a soothsayer; you need a truth-sayer to guide you through the financial realm. And smart goals can help you do that regardless of the stars' positions. These goals lay the foundation and groundwork for your successful future. And give you the motivation and focus you need to get there.
Measurable: Smart Goals Track Your Progress
Measurable goals allow you to track your progress. Remember, never count your eggs before they hatch.
Instead, set goals that measure progress at each step. Any egg — or goal — that doesn't measure up might be a dud. Chuck the duds and move forward with the rest.
By measuring your achievements, you can pluck the feathers of doubt and gain confidence in your financial prowess.
Attainable: Achieve Dreams Effectively
If you want cluck-cess at its finest, smart goals are the secret sauce to transforming your dreams into reality.
Think of them as taking a big goal and chunking it down into bite-sized nuggets you can more easily work with.
Hard: Laying an entire clutch of eggs at once.
Easy: Laying one egg at a time.
By breaking down big aspirations into smaller, manageable steps, you can peck away at your goals and bring your financial dreams to fruition.
Real Results: Empower Your Action
Speaking of fruition…
A clear plan gives you the means to empower your action and provide them with meaning and purpose. After all, a hen doesn't just sit in the nesting box for no reason. It's all part of the preparation for what's to come…the golden egg, of course.
So, can smart goals empower your actions with a plan for egg-cellense? Yes!
With a plan, you'll have measurable targets, something to work towards. Smart goals allow you to take confident strides forward while hatching small and big results with each step.
Time-Bound: Tick-Tock, Goal o'Clock
No goal works efficiently and gives you the results you need or want when you need or want them without a time component.
So…
When setting smart goals, make them loud. Make them proud. But make them time-bound, as well.
Give your goals a specific deadline, and you'll flap toward your financial dreams with a sense of urgency and purpose because every frugal hen knows that time waits for no one!
Setting a time-bound target helps you focus on pecking away at your goals and avoid procrastination.
If you want to lay an egg, then lay an egg, for hen's sake!
Setting a deadline to achieve each goal is like a gentle nudge from the rooster to get cluckin' and make the most of your time.
Conclusion
In a nestshell, smart goals are the ultimate tool for mastering your money and building a solid financial foundation for your future and the future of your flock.
By setting specific, challenging goals, you'll discover how capable you are of feathering your nest and achieving greater financial heights.
So, don't be a chicken—get-ta cracking on setting smart goals and watch your finances take flight!